Ah un grand merci les filles à Miss BeetleFraise car grace à elle vous pouvez admirer la très jolie collection de bijoux de JEROME GRUET (en attendant les sacs!!!!!!)....
First a big THANK YOU to Miss BeetleFraise for the beautiful pictures. Thanks to her talent, you can now admire JEROME GRUET's wonderful jewellery collection .... Next will come the bags!....

Pendentif "Leï-Aloha" sur cordon en cuir réglable, 48€ ...

Alors si moi je suis une fille de la plage, Jérôme lui c'est le Beach Boy par excellence!!! Bon par contre ses plages de prédilection, à lui, sont celles d'Hawaïï où il vit une grande partie de l'année ... évidemment ça fait rêver ....
So if I'm a Beach Girl, Jérôme is the ultimate Beach Boy! Of course his beach is in Hawaïï where he lives much of the year.. Total dream life ....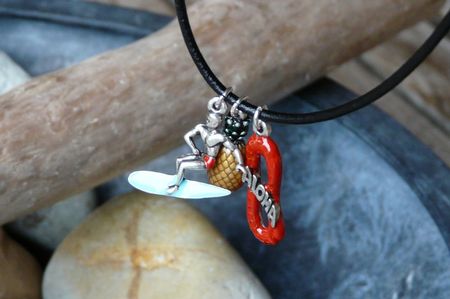 Collier "3 pendentifs" Hawaïïan style, 123€ ...

Pendentif "surfeur" sur cordon en cuir réglable, 53€ ...
Comme plusieurs autres créateurs avec lesquels je travaille, je connais Jérôme depuis des années, et ça fait des années que je suis archi fan de tout ce qu'il fait. Il a commencer en créant la marque Diplodocus avant d'en laisser les rênes à d'autres... pour fonder la marque JEROME GRUET.
Like many other designers I work with, Jérôme is very old dear friend of mine and I have always been one of his greatest fans. He has started his career with the label Diplodocus before handing it to other people ... and establishing his own label JEROME GRUET.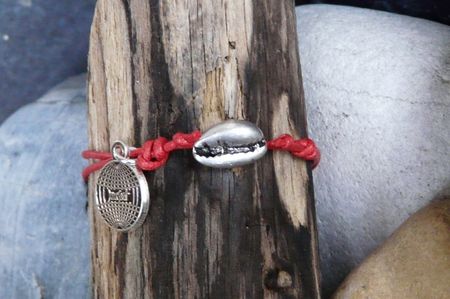 Bracelet "Cori" sur cordon réglable en coton (rouge ou kaki), 25€ ...
Ses premières créations furent des bijoux très purs et très beaux en or et perles de cultures, puis il y a eu sa marque de fabrique: les cabas, plébiscités dans toute la presse. Unis tout d'abord puis en sublimes tissus hawaïens. Et encore des bijoux mais en métal argenté et émaillé de très belles couleurs ... Tout est fabriqué en France, à la main, selon un savoir faire artisanal, dans les règles de l'art...
His first jewellery creations were very pure and beautiful, made of gold and cultured fine pearls, then came his trademark: the bag, hugely popular with the fashion press. Firstly made out of plain fabric, now made out of stunning Hawaïïan prints. And there is still jewellery but now made out of silver with beautiful coloured enamel ... All is hand-made, here in France ...

Bracelet "shell" sur cordon réglable en coton (rouge ou kaki), 25€ ...
Puis aujourd'hui, il y a cette ligne de bracelet sur cordon dont je ne pouvais qu'adorer le côté "coquillages et crustacés"!!!
Nowadays, there is also a new line of cord bracelets one can only simply adore for their "Coquillages et Crustaces" inspiration!!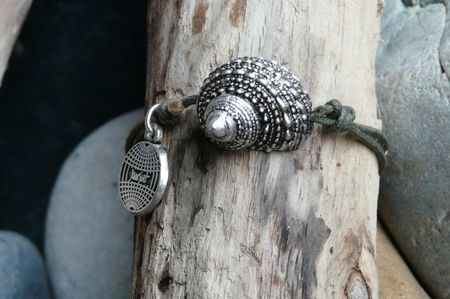 Bracelet "bigorneau" sur cordon en coton réglable (rouge ou kaki), 30€ ...
Donc voilà, grace à ces très très jolies photos, je peux enfin partager avec vous ces merveilles qui vont de ce pas rejoindre les rayonnages de la boutique en ligne.... Si vous avez envie d'évasion, c'est par là ...
And now, thanks to these awesome pictures, I can finally share with you these wonders ... They are as we speak, reaching my online store's shelves ... In need of escaping from grey and cold? ... This way, please !...
Bracelet "plaque" sur cordon en coton Jérôme Gruet, 25€ ...

Photos BeetleFraise ... www.sunrisehossegor.com